March 24, 2021
Posted by:

JPM 4 Marketing

Categories:

Client Management, Digital Marketing, Legal Marketing, Marketing ROI, Relationship Management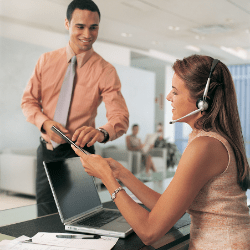 Usually when law firms think of marketing, they consider all the various marketing channels, platforms, formats and technical aspects of creating and distributing their story to a wide audience. Rarely does a law firm consider their staff as one of their marketing channels.  That's unfortunate, because the most successful law firms understand that their office staff is one of the most significant contributors to a marketing campaign's success.
Regardless of the marketing strategy, investing in your office staff will improve your Return On Investment (ROI).  Every member of your staff should know your "story" including how and when the firm started, what drives the attorneys and what makes your law firm different from your competition. These are the themes that drive your marketing and public relations and create a team environment for your staff.
Investing in basic training for your front office staff is a good start.  However, to stand out, your staff needs to be promoting the law firm and it's attorneys whenever possible.  When potential clients reach out, they are nervous about hiring the right attorney. Having a staff that knows how to promote the attorneys as the best attorneys to solve the callers problem is the best way to improve your appointment scheduling ratio.
Today's clients are looking for an "experience" as much as a solution to their problem.  Having a staff trained to promote the law firm is a key component in creating that experience. Teaching your staff to express empathy while reassuring a caller that they have reached the right place to solve their problem helps establish an emotional connection.
Remember that it is the little things that create experiences!  Before you launch any marketing campaign, evaluate your staff, make changes if necessary, tell your story to the staff and give a copy of any marketing materials to them. Your staff should have a 100% understanding of any promotional offers being marketed by the law office. 
If you need help creating a successful marketing strategy and improving your results, please feel free to schedule a phone appointment with me.