March 18, 2022
Posted by:

JPM 4 Marketing

Categories:

Branding, Content Strategy, Email Marketing, Legal Marketing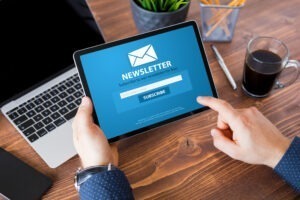 Many law practices have never produced a newsletter or have stopped offering one.  Newsletters are still an excellent way to connect with prospects or keep your name in front of past clients. I know a financial planner who has been sending out a newsletter for 15 years. Originally as a mailing and now as an email. He never stopped sending this out once a month and every month he continues to receive 3 or 4 clients as a direct result of his monthly newsletter.  
Newsletters have stood the test of time as a valuable marketing channel. Newsletters continue to be one of the most effective and financially rewarding ways to market your law firm. 
With a strong newsletter strategy in place you can share law firm updates, relay information about important new laws and drive traffic to your website. This keeps your name in front of past clients, keeping your top of mind when they know someone who needs legal help.
Some fun ideas for a newsletter include:
Featuring a case study

Responding to Frequently Asked Questions

Newjacking (taking a legal situation from the news & adding your opinion)

Highlight Community Events

Meet the Lawyers & Staff (highlight someone different each month)

Upcoming Speaking Engagements

Interesting or Fun Facts about your office

Client Review

Promote material on your website
The key is to write content that is valuable to your readers and keeps your name in front of them. Newsletters keep you connected to your network. Ideally keep your content concise and easy to read. Pick one day of the month, like the 2nd Wednesday, and always email your newsletter on that day. 
If you need help writing a newsletter, contact your marketing agency and ask if they offer this service or if they can recommend someone for it. There are professionals who specialize in this type of content. 
If you need help creating a successful marketing strategy and improving your results, please feel free to schedule a phone appointment with me.