February 26, 2021
Posted by:

JPM 4 Marketing

Categories:

Client Management, Digital Marketing, Legal Marketing, Marketing ROI, Relationship Management, Uncategorized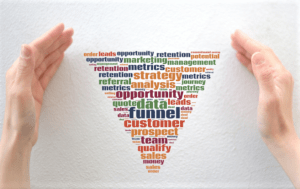 Generating leads through your marketing campaigns is only one part of getting new clients. To turn your marketing calls into clients you need to utilize value propositions. These propositions are designed to continue engaging the prospect at every step and move them closer to hiring your firm. 
Charles Revlon, the founder of Revlon, was known for saying that his company does not sell cosmetics. It sells hope. As an attorney you shouldn't be selling your legal services, you're selling peace of mind, a positive legal experience, an authentic relationship by taking the time to know your clients, etc… The more specific you make your value proposition the more effective it will be at attracting clients.
If you haven't already done so, create five (5)  value propositions for your firm.  Ideally your marketing agency would help you do this before you launched any marketing campaigns.  If you haven't  identified your value propositions, now is the time to do it!  Your value propositions are the qualities that differentiate you from your competition.  They are the reasons someone will hire you rather than a different attorney.  If you aren't sure what makes your firm unique, read your online reviews and identify the most common positive things people say about your firm.
Every member of your staff needs to know your value propositions and be comfortable re-stating them to prospects. This is especially important for your front office staff.  When leads call the office the primary goal is to get them to schedule an appointment.  Your office staff can use value proposition statements to convince the caller to make the appointment.   
Consider this scenario:
Caller: "I recently received a DUI and I saw your ad. I need an attorney."
Staff:   "Thank you for calling us.  What day and times are best for you to meet with one of our attorneys?"
This conversation is the norm for most law firms.  While it may seem okay to you, I see it as a missed opportunity to promote your firm, further engage your caller and get the caller several steps closer to hiring your firm.  
Consider this alternative scenario:
Caller: "I recently received a DUI and I saw your ad. I need an attorney."
Staff:   "I'm so sorry to hear that Mr. Caller. Can I get your name and number in case we get cut off?" 
Caller:  "John Jones, 555-123-4567"
Staff: "Thank you John. You've called the right office!  Our DUI attorney, Mr. Smith has handled thousands of DUI cases and really works hard to get to know you and get the best results for your case.  Is there a time next week that you can meet with him?"
If you have any questions about developing a successful, comprehensive Marketing Campaign, please feel free to schedule a call with me!