May 19, 2021
Posted by:

JPM 4 Marketing

Categories:

Client Management, Digital Marketing, Legal Marketing, Uncategorized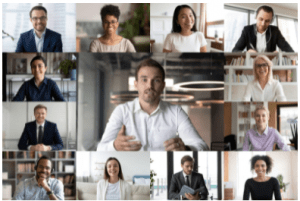 Many technology trends were accelerated by the pandemic shut downs.  A few of those trends are now enthusiastically embraced, including working from home and virtual consultations. It turns out that potential clients love virtual consultations! That's a good thing because they can be an effective way for legal teams to engage early in the marketing cycle with people who need legal help.
You don't have to be "on call" 24 hours a day to use virtual consultations. There are a few ways you can implement them into your marketing and client relationship strategies. All of them seem to increase your marketing returns so you will have to determine which one works best for your market.
The first way to incorporate virtual consultations into your new client strategy is to simply post a calendar on your website and ask your audience to schedule a brief, initial consultation with your law firm. This is the most common way to use virtual consultations. 
A second way to use virtual consultations is to ask your audience to scan a QR code on any printed marketing materials and a link on any digital marketing data that takes them to a page on your site.  On that page they can upload documents, photos or anything else they deem relevant.  They can also send you a brief synopsis of why they think they need legal help.  You can notify them on this page that you will respond within 48 hours (or whatever time frame works). You can then use your smartphone to video yourself including an introduction, then responding to their request by giving them general information about their situation and the reasons you need to know additional details before you can give them legal advice.  
Here's an example of how to set this up:
Connect with us today and get your legal question addressed at NO CHARGE in three easy steps:
Upload information about your legal concern, including photos, documents and your message.
We will create a Personalized Video addressing your legal concern.
View your video and Schedule an Appointment
You may be asking what is the point of this second type of virtual consultation? There are many positives to taking this approach.  First you can control your time by sending a response rather than interacting on the first contact.  Second, you create a "personal" connection with the requestor.  Preliminary data indicates that a new client is 80% more likely to schedule a meeting and not cancel that meeting using this approach. Thirdly, you appear more authentic and relatable by using your smartphone and keeping it professional but somewhat casual.  Lastly, because you are investing minimum time, you can offer this at no cost to the requestor.
If you need help creating a successful marketing strategy and improving your results, please feel free to schedule a phone appointment with me.