May 18, 2022
Posted by:

JPM 4 Marketing

Categories:

Content Strategy, Digital Marketing, Keyword Strategy, Legal Marketing, Organic SEO Strategies, PPC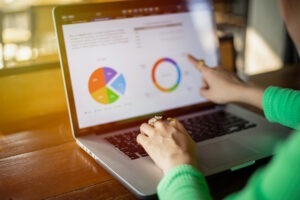 When reviewing monthly or quarterly analytics, many law firms don't pay as much attention to their Keyword Benchmark Reports as they should.  These reports typically aren't as graphic filled as some other reports, sometimes they are presented in a simple spreadsheet format.
However, focusing on the details in these reports can help guide your SEO and your PPC strategies. Some of the most important details to focus on are: how many page 1 keyword rankings do you have for the month, how many new keywords are you ranking for, where are you ranking for each keyword (organic, knowledge panel, GMB). What page on your website is showing up in the result for each keyword search?
Here's a screenshot example of an easy to read Keyword Benchmark Report.

You can quickly see that this firm has 126 keywords ranking on page one, that they have 17 keywords that have ranked for the 1st time, and that they have 35 keywords that show their Google My Business page when users search. The type shows organic, places or knowledge panels which tells you how they appear on page one. 
Comparing their top SEO keyword rankings to the keywords used in the PPC campaigns can help law firms focus on their strengths for both marketing channels. Reviewing keywords they rank for the 1st time may give them insight into topics that are being searched currently. The keywords and phrases users search can be influenced by the season, current news, etc… they are not static.
If there are keywords that aren't ranking on page one it may be time to use an alternative keyword for that service or replace the keyword with a long tail keyword. In other words, the keyword being tracked is not matching user intent well. 
Many insights to help your law firm fine tune its marketing strategy can be found in Keyword Benchmark Reports. If you aren't currently receiving this type of report monthly, request it from your marketing agency! 
If you need help creating a successful marketing strategy and improving your results, please feel free to schedule a phone appointment with me.