December 9, 2021
Posted by:

JPM 4 Marketing

Categories:

Content Strategy, Conversion Rate Optimization, Digital Marketing, Keyword Strategy, Legal Marketing, Marketing ROI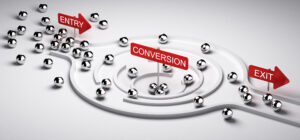 We all know that writing regular content for your website is essential for driving organic traffic. However, writing content that engages your audience and increases the percentage of visitors who convert or take a specific action is the ultimate tool for generating new leads.
Writing engaging content is the first step in improving your CRO, the next step is to build forms into every page on your website, add awesome visuals and include a CTA (Call To Action).
I've written many articles on content creation that you can refer back to as a refresher. Building forms on your website is a fairly easy process for your website development team.  The most important question is how extensive you want your forms to be. In general, keeping forms short and simple for visitors to complete is recommended. Here are a few simple online form builders you can explore for building forms on your website; Wufoo, HubSpot, Google Forms, Jotform and Typeform. Make sure that any online form builder you choose is able to integrate with your CRM.
The next step to improving your CRO, is to analyze your audience's journey when they reach your website. Your site should be well organized, easy to navigate and lead users to the areas related to their search intent. A good way to create a funnel/ journey that leads to conversions is to fully understand what your users want when they go to your website. Understand the problems they are facing, reassure them that you can provide a solution and confirm that you are the best solution for their problem.
In short, dedicating resources to performing extensive keyword research, understanding your target audience and creating an uncomplicated user journey are the keys to developing a higher Conversion Rate. 
If you need help creating a successful marketing strategy and improving your results, please feel free to schedule a phone appointment with me.