February 18, 2022
Posted by:

JPM 4 Marketing

Categories:

Digital Marketing, Legal Marketing, Marketing Analytics, Organic SEO Strategies, Website Design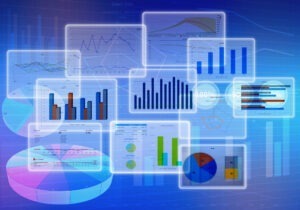 If you receive Google Analytics reports from your marketing agency or you run your own reports, you know the amount of data available can be overwhelming. If you only have time to review one report, the Audience Overview report is the one you should always review.
This report provides a wealth of information about the type of traffic that is going to your website. For our example we want to see how many total people went to our website and how  many of those visitors found our website through an organic search.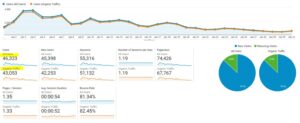 As you can see, most of the people for this website found them organically by doing searches.  This means they are using a successful SEO strategy that is driving people to their website.
For this same account, we can also see how many users found them through paid search or PPC campaigns. We can also see the average session duration which tells us an average of how long users spend on your site. Google defines a session as the number of visits overall during a specific time period. For example, if a user goes to your site, leaves and then returns after 30 minutes, the return visit would be considered an extra session but the user would only be shown in the user count once.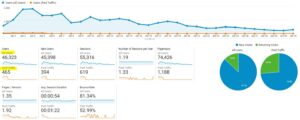 If you want to get an overall picture of how your website is performing and how people are finding you, the Audience Overview report is the best one to review. 
 As you can see, this report gives quite a bit of detail about your website user, including how many users are new to your website, the average number of pages viewed, the average amount of time users are spending on your website, and how many users leave the site after only visiting one page (bounce rate). This isn't always a bad thing, it could mean the user was looking for a phone number or address, found it on the page and left.
If you need help creating a successful marketing strategy and improving your results, please feel free to schedule a phone appointment with me.