February 22, 2022
Posted by:

JPM 4 Marketing

Categories:

Content Strategy, Digital Marketing, Keyword Strategy, Legal Marketing, Link Building, Organic SEO Strategies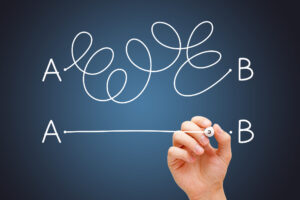 Digital Marketing is an industry that consistently experiences changing techniques and technology.  As we begin 2022 we know that Artificial Intelligence (AI) is becoming increasingly relevant in organic searches. As machine learning and natural language processing progresses, SEO continues to be one of the best ways to outperform your competitors and increase your market share. 
Google has invested heavily in AI and continues to be the predominant search engine for users. The biggest benefit of AI for SEO is efficiency and speed. Prior to the adoption of AI, content was primarily written to adapt to algorithms. Content designed to adapt to algorithms can create unnatural writing patterns. With AI and machine learning, writing content that matches a user's search intent becomes much more relevant for page rankings.
Over the years SEO has gone through many trendy changes but overall sticking to the basics will help you outperform regardless of new technology.  Performing keyword research, building links, optimizing meta tags and writing content that informs and engages users will always deliver strong results. 
What does this mean for Law Firms? First, consider hiring a freelance writer or marketing agency with a strong SEO team to write your website content and ongoing blogs. SEO is a specialized type of writing.
Second, find out about the writers who will be creating your content.  Is English their native language? This is becoming more relevant as AI learns natural speaking patterns that users rely on when performing searches.  Are the writers college educated?  As a Law Firm you want writers who can sound professional, follow correct grammar rules and effectively research topics.  By using experienced seo content writers you will greatly improve the chances of your website ranking on the 1st page of organic searches. 
Finally, develop a quarterly content plan to ensure that regular content is being posted to your website. Consistent content keeps you ranking higher in results and will encourage users to spend more time on your site which also increases your ranking.
If you need help creating a successful marketing strategy and improving your results, please feel free to schedule a phone appointment with me.