November 17, 2021
Posted by:

JPM 4 Marketing

Categories:

Digital Design, Digital Marketing, Legal Marketing, Marketing Analytics, Website Design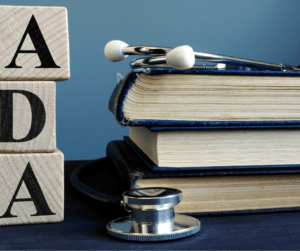 The American Disabilities Act was created long before the internet, but "places or public accommodations" can sometimes include websites.  There is currently a flood of legal actions across the US related to websites and mobile apps that violate the ADA. 
According to the CDC, "61 million adults in the US live with a disability. 26% (1 in 4) adults in the US have some type of disability." Disability Impacts All of Us. This number is higher in the over 65 age group. Based on these numbers, making sure your website is accessible isn't only smart, it's good business.
In 2020 a WebAIM report revealed that 98.1% of homepages had ADA compliance failures. The key components of an ADA Compliant website include (but are not limited to); Perceivable, Operable, Understandable and Robust. 
This list may appear daunting but there are free Website Accessibility Evaluation Tools online that can help you identify the areas of your website that are not currently ADA compliant. One of the tools I like is WAVE which you can access here:  WAVE Web Accessibility Evaluation Tool.  Once you've run the evaluation you will get a detailed list of what needs to be done to update your website that you can deliver to your developer. 
While the list may seem overwhelming, in most cases these changes are not complicated. Some practices may be tempted to create a new, simpler website for ADA purposes (in addition to their current website), but this would be a mistake. Not only will doing this lower your Google rankings it could create more legal issues.
Speaking of Google Rankings, an ADA Compliant website will improve your Google ranking.  Google values highly optimized websites and ADA compliant code and site design are the type of websites that Google expects and promotes in rankings. Basically, the more Google believes your website meets user intent and user experience the higher it will rank. 
If you need help creating a successful marketing strategy and improving your results, please feel free to schedule a phone appointment with me.