September 18, 2021
Posted by:

JPM 4 Marketing

Categories:

Content Strategy, Digital Marketing, Legal Marketing, SEO Strategies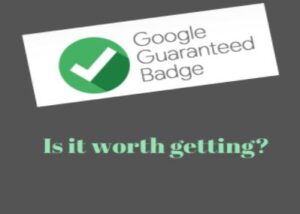 First, let me clarify that Google's Guaranteed Badge is not the same as Google My Business. This is a new service that Google started offering last year,  In essence, it is an upgraded profile that includes a badge from Google indicating your business has been verified and certified by Google. It tells users that your business is trustworthy.  The cost for this upgraded certification is $50 per month, or $600 annually.  Only businesses with Google Local Service Ads accounts can receive the Google Guarantee.
To qualify for the Google Badge you will need to complete a background check and licensing check for your practice.  The process is cumbersome and takes a few weeks but the reward is that you will appear at the top of Google in local searches for your services. See below for how a Google Guaranteed Business appears in a local search for a Divorce Attorney: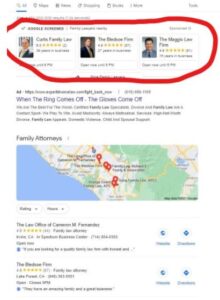 For consumers seeking attorneys, the Google Guaranteed Badge helps them identify firms in a field of several, sometimes 100's of law practices. In the United States Google may reimburse customers up to $2,000 if they were dissatisfied with services from a Google Guaranteed Business. From Google: "If a customer is not satisfied with the quality of your work, Google may, in its absolute and sole discretion, reimburse the customer up to the amount on the job invoice for the initial services provided by you, up to a lifetime limit." Of course there are restrictions. You can learn more about this guarantee here: Google Guarantee
For attorneys, Google Verified will verify all law licenses for attorneys.  Google does not perform a separate background check for attorneys because every state requires this prior to licensing attorneys.
The Google Guaranteed badge will appear in Local Service Ads and alongside your Google My Business profile for $50 per month). Once you receive the badge you will still need to maintain high standards to continue attracting quality clients.
If you need help creating a successful marketing strategy and improving your results, please feel free to schedule a phone appointment with me.