April 8, 2021
Posted by:

JPM 4 Marketing

Categories:

Content Strategy, Digital Marketing, Legal Marketing, Organic SEO Strategies, SEO Strategies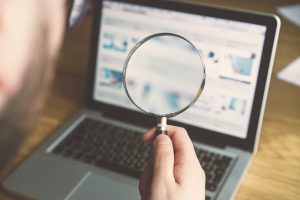 For law firms, especially smaller ones, it is difficult to compete with the big boys online.  Using common keywords is highly competitive and expensive.  One way smaller firms can compete online is by using long-tail keywords.  Long-tail keywords are more specific than general keywords.  They drive less traffic but tend to generate a higher quality of organic search traffic to your website.  Here are some statistics from  HitTail:
Long-tail keywords make up as much as

70% of all search traffic

.

Web pages optimized for long-tail keywords

move up 11 positions

on average.

Conversion rates are 2.5 times higher

than for head keywords.
Long-tail keywords are generally longer in length, typically 3+ words. Let's look at an example: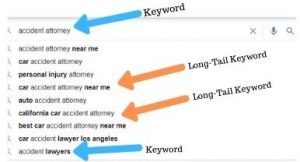 As you can see, the long-tail keywords are much more specific than general keywords. When it comes to SEO, long-tail keywords are less competitive and therefore easier for search engines to rank for.  Because they are highly specific, long-tail keywords convert at much higher rates than general keywords.
While there are several  programs available to help you identify long-tail keywords, I recommend brainstorming.  The process of identifying long-tail keywords yourself, rather than using a program will help you identify the best keywords for your practice and your area.  Think about the most common questions prospective clients ask you and the most common legal problems they hire an attorney for.  Search in public legal forums and find out what legal issues people are discussing. 
Once you've identified long-tail keywords you want to use then make sure your website content contains these keywords as well as including them in your blogs. 
With more people using voice searches we can expect even more impressive results from long-tail keywords!
If you want help improving your SEO rankings please feel free to schedule a call with me!