May 25, 2022
Posted by:

JPM 4 Marketing

Categories:

Content Strategy, Digital Marketing, Legal Marketing, Organic SEO Strategies, SEO Strategies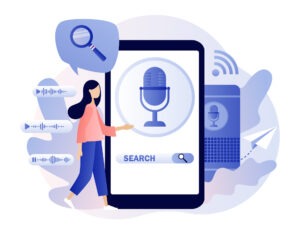 Studies suggest that 71% of consumers prefer to conduct searches by voice instead of typing (PwC, 2018) and this number is only growing.  When is the last time you saw someone under the age of 25 type a search query?
Still, most Law Firms are not optimizing their SEO strategy for voice search. According to Google, voice searches are 40x more action oriented than typed searches. Additionally, voice searches are more likely to use questions, long tailed keywords, conversational content (natural sounding language).
To help optimize your website for voice search use words such as who, why, where, what and how in your content so that it is based around questions.  If you are writing blogs, always use an interrogative statement in your title.  Think about the questions most clients ask when they meet with you and try to create content around those questions.
Long tailed keywords have higher intent and users who find your website using long tailed keywords are much more likely to convert to a lead.  Creating long tailed keywords in your content makes it easier for your website to rank because of less competition. Using voice search allows users to query with long tailed keywords more efficiently and quickly since they don't have to type out a long search term with multiple words.
Conversational content is a hallmark of voice search.  When you create your long tail keyword benchmarks make sure to use conversational tone and not legaleze or formal language. Make your content simple, on point and tell an engaging story.
Optimize your Google My Business Listing(s). You should assume that many voice searches include the phrase "Near Me" which means your GMB profile will come into play, alot! Use keywords in your GMB listing and create a posting calendar to post at least weekly about an event or commonly searched legal service. Remember, to always use keywords whenever you can and when it naturally fits within the context of your content!
If you need help creating a successful marketing strategy and improving your results, please feel free to schedule a phone appointment with me.