March 8, 2022
Posted by:

JPM 4 Marketing

Categories:

Branding, Digital Marketing, Legal Marketing, Marketing Demographics, Twitter Marketing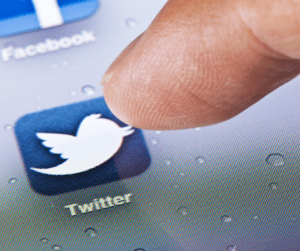 As we've discussed in recent articles, each Social Media channel has its own unique demographic audience. The best way to maximize the effectiveness of your Social Media marketing campaigns is to write posts that connect with the unique users for each channel.
Around 23% of American adults use Twitter, 70% of the users are male with 30% being female. 46% of Twitter users access their account daily. 33% of Twitter users have a college degree or more and 38% of them are between the ages of 25-34.
The 2 pieces of data that really make Twitter stand out from other social media channels is the fact that posts (tweets)  are limited to 280 characters and that a large majority of users are male. Facebook has a larger female audience and tends to be more social than Twitter. On Facebook you have to connect with people first before you can share your content with them (unless you pay to promote your posts). In the physical world, Facebook could be compared to attending your High School reunion and Twitter is more comparable to attending a conference.
When you're creating a tweet, think of how you would connect with people at a conference. Your interaction would be quick and concise. Twitter users find you based on what you actually Tweet, not based on a connection with you personally. Twitter can be highly beneficial for new law practices that want to promote their services or brand.  Once they've created some following on Twitter then creating a Facebook page and promoting the page and your website on Twitter is a good strategy.
An example of a Law Firm who is highly successful on Twitter is Baker McKenzie. They create original content as well as using content from other professionals.  They predominantly use various shades of red and blues in their tweets, staying consistent with their brand colors. They also personalize their firm and employees by tweeting behind the scenes pictures.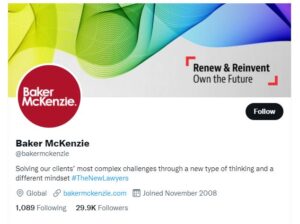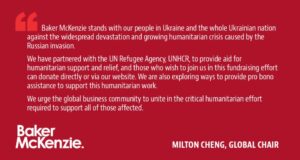 Twitter is an excellent channel for law firms. Remember to create a consistent strategy and post content in a style that makes you the most comfortable.  Authenticity creates engagement!
If you need help creating a successful marketing strategy and improving your results, please feel free to schedule a phone appointment with me.