We've all heard of Facebook and most of us have personal profiles listed there.  What many people may not know is that Facebook is the #2 most used social media platforms in the US. 74% of users access FB daily. The #1 most used social media platform is YouTube (see my previous article for more information, The #1 Social Media Platform for SEO.  
There is a reason the majority of large corporations invest in their social media presence. 1.6 billion people worldwide are connected to a small business on Facebook (Facebook For Business). Facebook for business allows you to interact directly with your audience and target your audience! It allows posts in text, image or video format and encourages viewers to interact.  Additionally, you can start a special interest group and join groups that may have an interest in your services.  Facebook can help you establish quality backlinks as well as confirm the authority of your website.
Below are the user statistics for Facebook: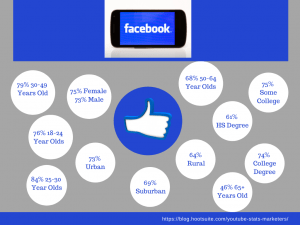 As you can see, Facebook attracts a wide ranging audience.  When you create ads in Facebook you can target specific geographic areas, ages and interests to improve your response rate and interactions. 
To improve your SEO you'll want to incorporate strong keywords into your posts and advertisements, optimize your "About" section, create quality content, pin your important posts and use a lot of images. You'll also want to comment and share quality content you find on Facebook.  Interacting and engaging with others on a personal level is the goal of social media platforms.
Once you've established an online presence Facebook Ads can be very effective at boosting SEO at a reasonable cost. Just like any marketing, your ads should be designed to attract an audience with high quality content and images as well as a clear Call To Action. One of the greatest features of Facebook Ads is the ability to set your own budget.  This makes it one of the most affordable methods of online advertising.
To learn more about advertising on Facebook you can go to their Facebook For Business site, (Facebook For Business)
If you have any questions about developing a successful, comprehensive SEO Strategy, please feel free to schedule a call with me!